Multi User Training

Full online Library
Windows Server 2008
Windows Server 2003
Web Developer

SQL Server
Help Desk Support
MS Office
CompTIA Training
Cisco Training
Other Course

Train the Workforce via your LAN.


The LearnStation system is a solution to train multiple users concurrently across a LAN. This license is available for both Corporate, Government and Commercial training accounts. The course content is loaded on an accessible network drive and can be logon through all local computer workstations concurrently.. This solution is not designed for internet delivery hosted on a web server. The cost to purchase this license must be calculated based on the number of users.


The LearnStation system, is the platform of choice for hundreds of global organizations. Our customers have found our LearnStation solution to be an easy-to-implement, reliable and cost-effective way to deploy learning programs within their organizations.


The LearnStation Learning Management System gives organizations the necessary tools to effectively train their entire workforce. Affordable, scalable, and cost effective, the LearnStation LMS answers all of your training needs.

Multi User LearnStation Benefits are

Easy to configure to play across a network.
Same content as single user CDs
Many different titles can be loaded on to your web server, build up an extensive training library for a fraction of the cost of conventional training.
Easy to expend the number of licensed users.
Specially designed compression, does not clog the network.
View the training over your intranet, network or use our free player.

Our Online Library is one of the most valuable training resources on the web. You will have access to in-depth training, enabling you to achieve multiple Certifications, saving up to 95% on regular course prices. These courses will be streamed over any Internet connection directly to your computer.

Network Learnstation Course Features:
Multimedia Training - featuring instructor-led sessions with full motion audio/video.

Instructor-Led Training

- Ensuring an engaging learning experience.
Demonstrations and hands-on Interactive Lab Exercises -
so you may practice new skills in a real-world environment.
eBooks - giving you further understanding of the concepts covered in all of the training videos.
Practice Exams and Test Simulators - ensuring you have the skills and confidence needed to pass your exams - the first time.
Self-Paced Navigation - allows users to move forward and backwards through the course.
Approved Curriculum - Our content providers are Microsoft Certified Partners, therefore this courses follows the approved Microsoft course curriculum.
• Over 1000 on-demand course titles
• Up to 95% savings over individual courses
• All courses on one central server
• Direct connectivity to your computer network
• Admin/Student tracking software for student reporting and planning
Scaleable, Centralized, Easy to Configure
The LearnStation is designed to quickly plug into a standard network connection and be up and running within minutes. Built for ease-of-use, LearnStation works on most networks with little or no configuration. LearnStation uses a centralized, scalable, and portable hard-drive system allowing for extremely fast and simple installation and maintenance.
Multi-User Network Training

Built with an industry-standard open-architecture database program, The Network Learnstation provides secured access, tracking, and modification of student information including course curriculum, progress status, and exam scores. With no new or extra software needed,


LearnStation Administrator Accutrac Reporting:

Student course assignment

Report of courses completed

Length of time to complete courses

Testing scores

Number of times a test is taken

Actual test answer of a student

Course progress reports

Number of students in each course

Progress of class within a course
Oversee your staff's training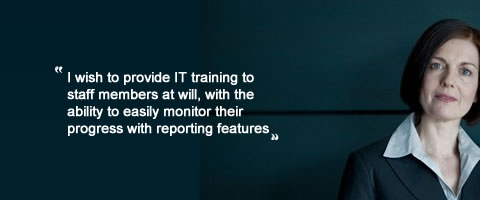 The LearnStation takes the headache out of administering the system and learning environment for your students. If a special report is needed and is not covered in the standard features, customized reports can be created on a per-job evaluation.

The LearnStation Administrator software makes the oversight of training, courses, instructors and students simple and fast.

Administrator includes pre-made reports produced using the industry standard Crystal Reports engine, allowing administrators to totally manage the entire learning process. Unequaled in the training industry, LearnStation Administrator gathers and presents the information needed to manage one student or 1000+ students at a time.
Cost Effective Training

You can sign up 20 users unlimited LAN access to our Cisco LearnStation Library (see below list) for as little as £5,228 (£261 per user).

Cost if you bought all Cisco courses separately £44,780
Your Price Only £5,228 (save £38,030)


Other - Options
LearnStation Pre-loaded Courseware
Price

Unlimited users

Complete Library
£9,00

Unlimited users

CompTIA Library
(A+, Net+, iNet+, Server+, Security+, Linux+)
£5,228

Unlimited users

Microsoft Office Library - multiple versions 2003,2007
£5,228

Unlimited users

Microsoft Library -all MCP, MCSE, MCSD, MCSA, MCSDT, MCPD, courses
£5,228

Unlimited users

Cisco Library
£5,228
Our Online Full Library consists the following courses: